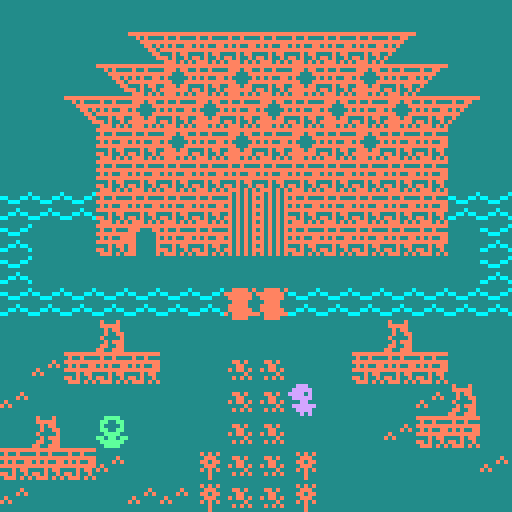 almanac of girlswampwar territory & the _girls who swim as fertilizer thru the roots of the glorious tree of eugenics
almanac of girlswampwar territory & the _girls who swim as fertilizer through the warm soil cloaking the roots of the glorious tree of eugenics (giving birth to a black hole in a walmart parking lot at 1am)
-decipher the weather, cryptic runes, and the eyemoon with the authentic girlswampwar almanac pdf! (see download below to unleash your knowledge)
-move around with arrow keys OR wasd!! the game that puts YOU in the driver's seat!
-meet fun characters and do a talking to them
-day/night cycle JUST LIKE MARIO
-hunger/sleep system (make sure you have enough $ saved up or you'll fukkin diE)
-mutations
-lots of secrets
-2~ endings, not counting all the horrible ways to die
-cross-demographic appeal to emo bitches and yugioh fanatics
-3d print any tile in the game with this STL catalogue courtesy of Micah 🧸
CREDITS
writing, code, art by porpentine charity heartscape
main soundtrack by Heaven Pegasus
forest, swamp, and ??? theme by Lauren Bousfield
overworld theme and demon tarot theme by rook
isle theme by Neotenomie
invaluable work from Laevos in hacking bitsy + maintaining exhibit computers
much help from bitsy, bitsy discord, borksy, etc <3
made with support from YBCA, where the game was originally exhibited
Download
Click download now to get access to the following files:
Almanac of Girlswamp Territory.pdf
23 MB
Comments
Log in with itch.io to leave a comment.
Heyyy, could you please release a downloadable version of the game ?
thank you so much ! I'm really looking forward to play to this game after my exams, very excited !
Have a nice day ! :)
Swell game! The world is strange and I like spending time in it and talking to its girls. This game seems angry about a lot of IRL things I'm also angry about and this is satisfying to me for some reason.
I got the demon tarot ending. I also enjoyed turning into a strange creature in the woods. Though I cannot for the life of me figure out the four digit code in the nightclub and was wondering if anyone had any hints about where to discover those digits.
thank you! ::) girls...IRL angry things...it's got it all!
congrats on the demon tarot ending 🃏😈. i think the nightclub code is just a little room i put in for people subscribed to my patreon (the code is in the girlswampwar post i made on there). there's nothing massive or important in it.
I love it! I don't know what's going on, but I love it! Wish I knew how to get to the end though...
thank you! there are multiple possible ends...one involves demon tarot...talk to the professor in the city by the sea...the other involves finding all the blue rooms and sparkly orbs
Do you think you ever make a guide on these endings? im so bad at this game and I've never been able to get any ending ;u; sorry if this is boeghering u! this game is so good
SPOILERS:
the professor in the lab in the south isle connected by bridge to the sea city of Glitzfoam will show you 4-tile images that match locations in the world. hidden booster packs await...once you build your deck, go to the city of roads in the upper middle of the world map and go to the lower right tower to face the ultimate challenge,.,,..
another ending: find all the sparkly things and follow the cryptic instructions in the mountain in the island
I know I didn't play much but from what I did, the comments, and what I heard from the engine you used this is so cool, it looks so fun to explore around and just take everything in, I like how you made a collision over you so it looked like a platformer, awesome.
thanks! :) yeah switching perspectives is one of my favorite things to do in bitsy, even to the point of illegibility...letting people figure out these skewed rorschach worlds...
this is amazing and terrifying and I love it! I keep exploring it and finding new things, just over and over again. and dying a lot. this is SO SO SO GOOD.
This is gonna require a lot more playthroughs to soak in all the coolness, but I wanted to say ✨✨wow✨✨!!!!!!!!! Great job, there's ~so~ much packed into this Bitsy game!!!! And the almanac that comes with it is super cool as well! 💖